The Congressional Art Competition will be held virtually this year
Congressional Art Competition 2021
Due to the pandemic, the Massachusetts 8th District will conduct its art competition virtually this year. Applicants must submit pictures or scanned copies of their artwork and completed 2021 Student Release Form to ma08artcompetition2021@gmail.com by Saturday, May 1st, 2021. For further information, applicants (and their teachers) should thoroughly review the 2021 Rules for Students and Teachers.
Each spring, the Congressional Institute sponsors a nationwide high school visual art competition to recognize and encourage artistic talent in the nation and in each congressional district. Since the Artistic Discovery competition began in 1982, more than 650,000 high school students have participated. Students submit entries to their representative's office, and panels of district artists select the winning entries. Winners are recognized both in their district and at an annual awards ceremony in Washington, DC. The winning works are displayed for one year at the U.S. Capitol.
Art Competition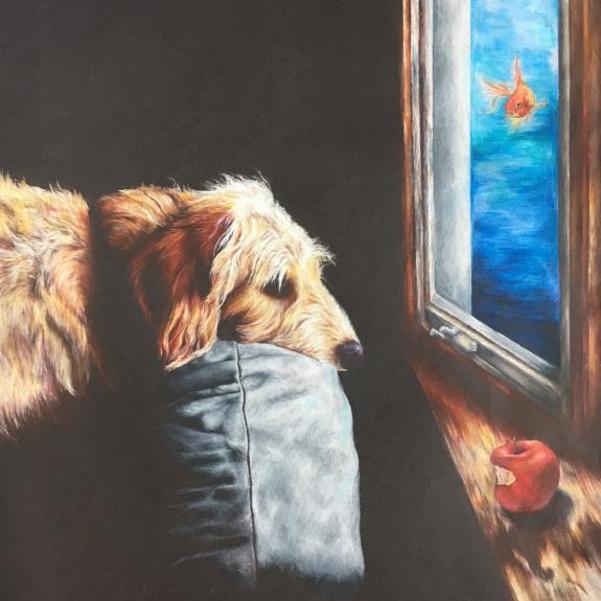 The Congressional Art Competition is an opportunity to recognize and encourage the artistic talent in the nation, as well as in our congressional district.
Emma Lu, a freshman at Boston Latin School and West Roxbury resident, won the 2019 Congressional Art Competition fot the Eighth District of Massachusetts with the submission of her artwork entitled, "Keeping Company".
The annual Congressional Art Competition is open to all high school students in the 8th District. The overall winner of our district's competition will be displayed for one year in the U.S. Capitol. The exhibit in Washington will also include artwork from other contest winners nationwide.
Entries should be sent to Congressman Lynch's Boston, Quincy, or Brockton District Offices and put to the attention of Joseph Weydt. If you have any questions, please feel free to contact Congressman Lynch's office at (617) 428-2000.
Art works entered in the contest may be up to 26 inches by 26 inches (including the frame) and may be up to 4 inches in depth. The art work may be:
Paintings - including oil, acrylics, and watercolor
Drawings - including pastels, colored pencil, pencil, charcoal, ink, and markers
Collage - must be two dimensional
Prints - including lithographs, silkscreen, and block prints
Mixed Media
Computer Generated Art
Photography
All entries must be an original in concept, design and execution. More information on the Congressional Art Competition, including an overview of the competition rules and the student release form can be found here.
Congressional App Challenge
Every year we challenge students in our districts to create and submit their original apps for a chance to win the Congressional App Challenge (CAC). Each challenge is district-specific. As U.S. Representatives we publicly recognize our winning teams and each winning app may be put on display in the U.S. Capitol Building for one year. Additional prizes may be available. The Congressional Internet Caucus initiates the annual CAC. We have appointed the non-profit Internet Education Foundation to provide the CAC with supplemental staffing and support.
To be eligible to participate in the Congressional App Challenge, you must be a middle or high school student at the time of app submission. Students may register as individuals or as teams of up to four. No more than four students are allowed to form a team. Students may compete in the district they reside in or the district they attend school in. If competing as a team, at least half of the teammates must be eligible to compete in the district in which they are participating in. Submissions are due in November 1st, 2021.
For more information, please visit the CAC website here. If you have questions specific to our district involvement, please contact Keyana Adarkwah in our Boston office at keyana.adarkwah@mail.house.gov